Dit vrolijke krukje staat in de slaapkamer van mijn zoon.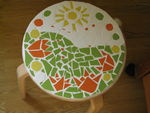 Het is te onstabiel om er op te zitten, daarom was het bij uitstek geschikt om tuintje te worden voor het hondje van mijn zoon, namelijk zijn nachtlamp.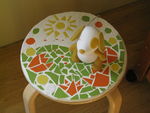 Ce tabouret et dans la chambre de mon fils, sa veilleuse est un chien, qui maintenant est dans son petit jardin.
This stool is in my son's room, his nightlamp has the shape of a dog, so now it has his own little garden.